Christian de Sousa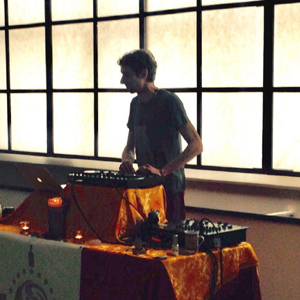 Dancing for me began as a clandestine activity in my bedroom as a teenager, lighting me up until I discovered the twin movement pathways of raving and Tai Chi. Coming across the 5Rhythms in 1998, I felt like I had come home. I learned the practice intensively with Gabrielle Roth, Ya'Acov & Susannah Darling Khan and several other teachers, eventually training with Gabrielle in 2004-05. I was then involved in Movement Medicine from its inception by Y&S, working and teaching as a Pathfinder, guest teacher and core Faculty for the School of Movement Medicine.
For 15 years I held a large drop-in class in a church in south London called Sweaty Thursdays, which became something of a seminal cultural phenomenon, spawning a large and vibrant movement community in London and beyond. This was the ground for the emergence of the dancingTao collective, which I led and which grew and developed in the decade to 2020, offering classes, workshops, immersions, reach-out work and other dance-based creative projects such as the Ecstasy Radio podcast, Rhythm Village festival, the eco-activist Earthdreamers collective and the international All In Movement project working with conscious dance and social inclusion.
I was born in Switzerland and have lived in England most of my life, teaching across Europe, mainly in larger cities. I'm also a DJ, photographic artist, radio broadcaster, Dad and occasional activist.
I've also studied Amerta (the movement work of Suprapto Suyodarmo, aka Prapto) Processwork/Worldwork, Taoism and various threads of shamanic practice (with Malidoma Somé, Chris Luttichau and currently Daniel Foor)
At the forceful suggestion of the Covid-19 pandemic, I stepped back from teaching and other active roles for some sabbatical time - to be with my family more, do my own practice and explore artistic renewal in other areas. Enjoying gradually returning to movement teaching in 2021, and currently building a new website which will be at glimpsesoflight.art
I'm currently offering a live 'deep radio' DJ session once a month called Transmission.
This goes out on the third Thursday of every month, from 20-22 Hr UK time.
It's not a facilitated dance class but its good music for dancers - come and say hello - click http://www.glimpsesoflight.net:8000/transmission for the 320K audio stream; follow me on Instagram or Facebook for updates and more info.

See you on the dancefloor!